About Morehouse Improvement, LLC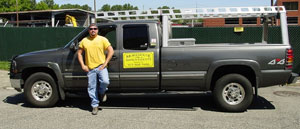 Starting around age 4, I was introduced to the basics of carpentry. I had my own tool bench by age 6, and my skills flourished as I grew older. From building wooden go-karts, to fixing things around the house for my mother, I always had a knack for working with my hands. When I was 19, I moved into a multi-family house in Queens, NY and took care of the house and property for the landlord. Within 2 years I was managing 3 other properties for them, repairing, building, and maintaining their investments.
I earned my Bachelors degree in Engineering at NYIT as a young adult and focused my work in the telecom industry for about 8 years. I moved to Nutley NJ in late 1999, and invested my skills and knowledge by starting my business. I became involved in rehabilitating dilapidated multi-family houses in inner-city re-development areas. All of my projects involved fully gutting homes, mold-remediation, major structural work, thus returning an "ugly house" into a beautiful home. This was not only great for new owners, but helped rebuild neighborhoods. Striving for more, I evolved my business into building additions, and renovating homes in more suburban areas.
Upon the success I had investing in this business; I decided to start working for homeowners directly by becoming a state licensed contractor. I was able to provide all my experience, knowledge, and capabilities to a new sector of customers. I'd developed many relationships over the years with other specialists and suppliers in the industry, as well as with homeowners whose houses I re-habilitated and their neighbors who watched our progress.
I continue building my business and work hard to establish new relationships based on trust, honesty and communication. It's important for me to enhance what has been working, and fine tune areas in of need improvement. The professional relationships I've developed over the years are a major asset to my business. I have a great team of reliable people who excel at what they do, whose professionalism shows in their work. And the trust between us is deeply rooted.
My team at Morehouse Improvements works hard, their experience adds up to over 120 years in the business and they are constantly training and learning. We consistently receive positive feedback from customers, who reflect back to us the work ethic I promote and encourage in my team.
David A. Morehouse, Owner