Outdoor Living: Decks, Porches, Steps, Pavers, Retaining Walls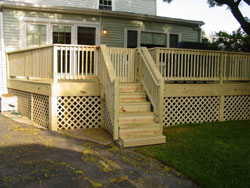 We design and install decks, patios and screened-in porches for year-round living. We can add pergolas, arbors, gas grills, pool decking, sitting areas and paver patios so that you can get the most from your yard and exterior spaces. Start enjoying the natural environment around your home by creating a new outdoor living area.
Decks and Porches
Perhaps the most important element in maximizing the life of your deck or porch is the quality of the materials and installation. At Morehouse Improvements, our team has years of experience and are qualified in all aspects of deck & porch installation. There are many quality decking and porch products available. There are wide ranges of styles and colors, each offering unique qualities that appeal to customers differently. We install products from Timbertech®, Azek®, CertainTeed®, Fiberon®, which are alternatives to wood. We also use standard treated wood, cedar, redwood, mahogany, and exotic hardwoods like IPE. Additionally we do install aluminum decking, which is an excellent alternative.
Masonry
Professionally completed masonry work can turn an ordinary property into a remarkable one. We provide expert stone, brick, and concrete installation and repair for commercial and residential properties at an affordable price. We install and repair brick entry staircases, concrete sidewalks & walkways.
Pavers, Patios & Retaining Walls
We use quality materials in all of our paver projects. Primarily utilizing Cambridge® and Belgard® products our customers are assured of long lasting color and quality in installation. There are many different styles in their product lines that will further enhance your project.
Retaining walls are a better alternative to a concrete block wall. They are used in many structural applications to hold back earth and dirt. The large blocks have a lip in the back of them, and are stacked one on top of the other and staggered back. This has a very strong effect against the natural forces of the ground pushing against the wall. Whereas a concrete block wall eventually may lean away from the earth pushing behind it, a retaining inter-locking block will not when installed correctly. The design of the blocks and how they are installed allow natural water runoff to flow around and through the block, aiding proper drainage and lessening the pressure on the wall.
Pool and Spa Settings
Installing decking around your pool or spa looks beautiful and makes practical sense. It helps family and friends keep their footing on wet surfaces and also helps keep debris from bare feet from getting into the water. We install pool- and spa-side decking of all types, from classic redwood to treated pine to the indestructible synthetics.
Our Additional Services: