Kitchen, Bathroom and Basement Remodeling
Planning a remodel of your kitchen, bathroom or basement? Let us help! Instead of calling in different contractors for each project, let us do the work from start to finish so that the final project is organized and cohesive!
Bathroom Remodeling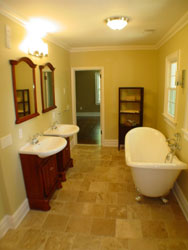 Quality workmanship shines through on our bathroom remodeling. We combine luxury finishes, green choices for basins, cabinetry and water-wise appliances from all major brands. We can install new materials or work with your existing tile or sinks. We only use experienced master plumbers and electricians to create the comfort and elegance you desire. We will transform that bathroom that you'll actually WANT to spend time in.
Kitchen Remodeling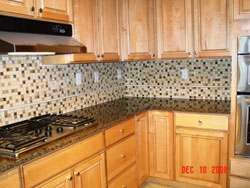 Tired of the 1950's kitchen cabinets and 1970's appliances? From new breakfast nooks to new appliances and new cabinetry, we can build you the kitchen of your dreams. We'll show you how environmentally conscious choices can help you create a healthy, energy-efficient kitchen without sacrificing style or performance. Functionality of a kitchen is paramount to a successful remodel. Working with your desires and focusing on your needs, we will bring you kitchen up to date and make it last long into the future.
Basement Remodeling
You have all of that space…why not use it? Think of the possibilities: Add a playroom for the kids, a visiting area for your neighborhood's social gatherings, a "man cave," a multi-media room or home office. While adding the extra living space, you're also adding value! The most important item when working on a basement remodel is water. That should always be the issue addressed first. Even if you have never had water penetrate your basement, we address future possibilities of flooding, sewage backups, and mold build up. Let our knowledge and expertise assist you in converting that storage space into a fully functional living space.
Our Additional Services: